Students who entered the college a few months ago or those who had to continue studying for the fall semester are doubtfully excited at this moment. A renewed school pride feeling, a bunch of new classes, and the entire crew of people to unite with as a class or group. Along with many perspectives for fun, there is a chance for you to get your dose of boredom and apathy.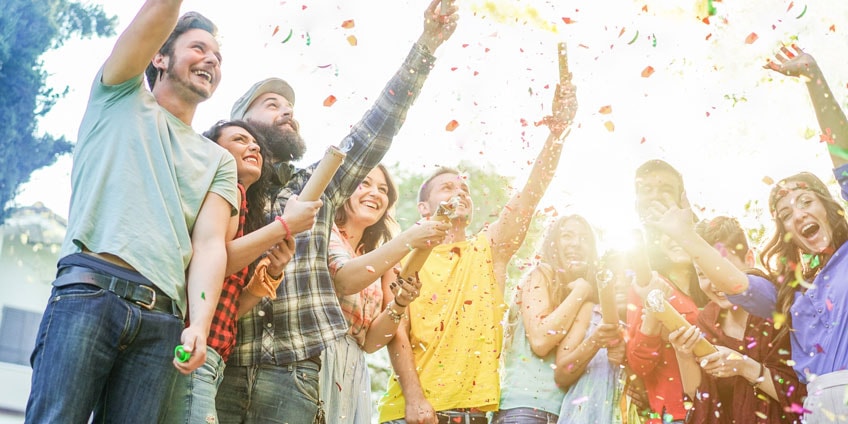 No worries, Papercheap writers got your back in both academic assignments and ways to entertain yourself. There always are many fun things to do in college alone or together with your new friends even when you feel totally broken and don't have a single penny in your pocket. 
When you live on a college campus (or near it), one of the most pleasant things is in the quantity of accessible and cheap activities. It would be silly to refuse using the benefits available inside the community.
There's no point in saying a lot. If you feel bored in the middle of the semester, gather your friends together and start making your college memories. 15 fun things to do in college we offered below might make you be a bit creative, but they all cost little to no funds.
Let's roll!
1. Film Party
Invite your friends to a dorm room, cook a lot of popcorn and have fun during a film night. Topical films are fine to choose from. For instance, you can try creating a holiday atmosphere before Christmas. It's not too difficult to find an appropriate film or series nowadays: all you need to do is to scroll on several websites. Pay attention to what your friends like and create your perfect set of movies to have a night of fun in college.  
2. See What's Around
Depending on a season, there can be various ways to do fun things outside when in college. For instance, autumn is perfect for doing pretty anything: it is neither too hot nor too cold. Chatting with friends while walking, visiting places of interest, running, and going in for exercises together are all great when you want to have some fun in college. The campus is exciting and safe for students to hang out, so there is a guarantee you'll get a thing to deal with boredom and tiredness almost at the dormitory's threshold.
3. Visit a Sports Event
It's hard to find a hotter spot for sports than a college campus. There always are competitions, either sponsored by the school or not. The undisputed king of autumn sports is football. And it will excite you.
Check the place to find out if there are Frisbee players among students in case the weather is warm enough. Get into the game and move a lot. Forget about boredom and have fun in college.
4. The Photo Session
The beauty of autumn leaves combined with the presence of your best friends is a reliable receipt for a crisp picture, isn't it? The fall foliage is an easy way to wake up your creativity, so don't be afraid to get crazy. Capture emotions, and you'll have the best photos reminding you of how fun the college was till the end of your life.
5. Student Exchange Program: The Solid Way to Have Fun
A student exchange program is a way to enrich your college experience, to have a lot of fun, to see new things, places, and people. The majority of colleges have programs for students to study in other states or countries, so ask school officials about them and list yourself in with no fear!
6. Internships Are Cool and Bring Fun
That is not only the way to get positive emotions and learn new things, but a sure choice to start your career while in college. Many successful people found their permanent employments during an internship. Even if you won't stay for a full-time job after, it will become a huge boost to your professional experience. And of course, an internship is always a good-looking line in a CV.
7. Volunteering: Your Choice to Be Kind and Have Fun in College
The best choice for you to volunteer is to do something you believe in heartily. Volunteers are those who change people's lives with positivity, and that is how you get a lot of valuable experience. Also, contacts established during volunteering will definitely bring you benefits in the future.
8. Make Friends and Have Fun in College Together
Your class is full of great people. The school is also crowded with exciting personalities. Volunteering program participants just can't be average guys. You get that, don't you? Your connection with such people is worth supporting and expanding.
9. Cook Something as a Group
Eating is what everyone needs. Tasty food is what everyone likes. The process of cooking delicious meals is another way to have fun in college. Grab fellows, order them to occupy the dorm kitchen, send a squad to raid the supermarket and then cook something cool to eat.
What, don't you know how to cook? That's even better. Others will almost certainly know some receipts, and you'll find out new things about adult life.  
10. DIY-ing: Try It and Love It
You probably heard of DIY (Do It Yourself). It can be called a worldwide cultural phenomenon nowadays, as people want to know how to create useful things with minimum budgets and to have fun at the same time. YouTube videos, Pinterest guides, written instructions for useful living stuff – these and many other things are available online for everyone.
Find a thing you like and start killing time usefully with your friends. If the DIY-build goes as planned, there will be a reason to be proud of and to demonstrate a self-made trophy. If you fail… well, then you will have a fun thing to laugh at.  
11. Games: Classic Ways to Have Fun in College
A well-chosen group of friends plus the DnD session provides a lot of fun. In case Dungeons and Dragons are too complicated (or you just don't like them), get any tabletop game, and start playing. Computer games are also fun, especially split-screen racing and fighting projects.
12. A Picnic: Simple but Great
It may be not a good choice in November, but you should note it for the future. Gather friends, buy your top snacks, and go outside the campus to look for your new best picnic spot. It doesn't have to be a costly journey, and you really don't need to plan it beforehand. It's great to be flexible and decide on the go.
13. Meet Your Professors
Getting to know your professors is a solid bonus you can take of consultations. Don't be afraid to ask questions or discuss studying points with them. If they like you, they'll give you good recommendations later.
14. Side Courses Are Useful
Have you ever thought of exploring academic fields different from your major? That's a solid way to expand the knowledge you already have. Additionally, you never know which of those areas can become your new calling or passion. And of course, additional courses will distinguish you from other candidates when getting a job after graduation.
15. Student Clubs and College Sports Teams
Joining a sports team or a student club is another way to have fun in college. Moreover, it is your chance to find out what discipline and time management is. Students participating in extra-curricular events or going in for sports in college have higher chances to get top grades. Regular sports exercising is also a great way to reduce your stress.